Visit website: http://www.economicalinsurance.com/en/groupinsurancechoices/groupinsurance.asp
y – Gold: Marius Mitrofan, Real Estate Broker at RE/MAX Realtron Realty Inc. Visit website: https://www.linkedin.com/in/mitrofan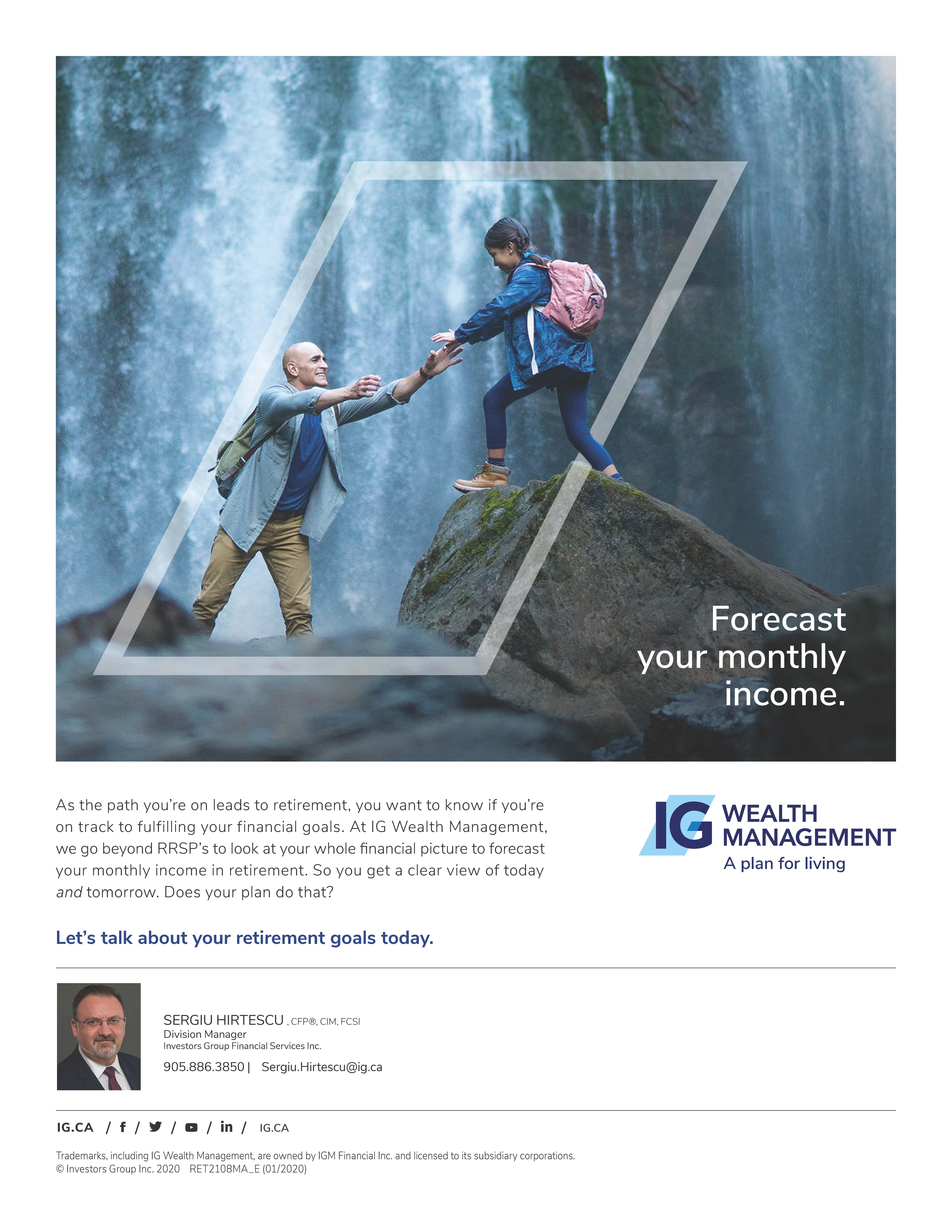 Sergiu Hirtescu CFP®, CIM®, FCSI®
Division Manager & Senior Financial Consultant, Mutual Funds Representative
 
201-1595 16th Ave, Richmond Hill, ON L4B 4B1
Tel 905.886.3850 | Mobile 416.895.6561 | Toll Free 1.888.764.6344
Sergiu.hirtescu@ig.ca| investorsgroup.com |https://advisor.investorsgroup.com/en/sergiu_hirtescu
Investors Group Financial Services Inc.
Member of the Power Financial Corporation Group of Companies
 
y – Gold: Laky Adam, Mortgage Broker Direct # 416.917.5303 LICENCE # 11056

CAAMP – Accredited Mortgage Professional (AMP) IMBA – Certified Professional Mortgage Broker- ICI (CPMB) Making one of the largest purchasing decisions of one's life can be a daunting challenge. It is one that requires a vast array of information in order to facilitate the financing options for that large purchase. My knowledgeable experience will be applied for new purchases or re-finance of an existing mortgage. I specialize in residential, institutional, commercial, and business related financing. Visit website: http://www.clnmortgages.com/lakyadam

Visit website: http://www.sevenviewchrysler.ca/index.htm
x – Silver: Parkway Honda… the Smart Way
Parkway Honda has been serving Toronto and GTA residents for over 30 years. Recently having undergone a 5-million renovation, we now offer one of the best Honda dealership experiences in Canada with our bistro snack bar, 3 internet stations including wireless access, and a children play area. Our goal at Parkway is your satisfaction; that is way our service department is open 6 days a week with highly trained technicians. When it comes to purchasing a new or used Honda vehicle, we've got the best selection in Toronto. Come and visit us, our professional sales team is dedicated to your satisfaction and we strive to deliver a truly outstanding purcahse experience. Visit website: http://www.parkwayhonda.com/en/
x – Silver: Natural Stone City
Visit website: http://www.naturalstonecity.com/
x – Silver: MARIO HOME RENOVATIONS INC.
We provide Home Additions, Bathroom, Basement and Kitchen Renovation services in Toronto and GTA. Call Mario's Home Renovation today to begin turning your vision into reality. MARIO'S RENOVATION | Telephone: 647-500-3215 | E-mail: marioshomerenovation@yahoo.ca
Visit website: http://www.mariohomereno.ca/
x – Silver: Forest Hill Woodworking
We are the company that can transform your old kitchen into a fabulous new kitchen for a lot less time and money than complete remodelling. Forest Hill Management |Phone: 905.770.3637 |Fax: 905 237 6564
Adress: 460 Elgin Mills Road E. Unit # 3 |Richmond Hill, ON L4C 5E7
Email: sales@foresthillwoodworking.com
Visit website: http://www.foresthillwoodworking.com/
x – Silver: Cristian Cupen, B. Comm., CGA For AREC members the first consultation is free.
Visit website: savetaxtax.com
x – Silver: CaRoEvents.com
Visit website: http://www.caroevents.com/
x – Silver: Bogdan Naie, Sales Representative RE/MAX Realtron Realty Inc., Brokerage
Visit website: http://www.BogdanNaie.ca
x – Silver: Bilete.ca
Visit website: http://www.bilete.ca/
x – Bronze: Monte Carlo Inn
Visit website: http://www.montecarloinns.com/
x – Bronze: HATCH Hatch ranked as Top 50 Best Employers in Canada for 2014
Hatch supplies engineering, project and construction management services, process and business consulting and operational services to the mining, metallurgical, energy and infrastructure industries. Pentru informatii Antonia Protopopescu Visit website: http://www.hatch.ca
x – Bronze: Dr. Elizabeth Munteanu Our small dental team is committed to provide dental care in a relaxed and friendly atmosphere. Phone: 416-398-2166 Visit website: www.drelizabethmunteanu.com
w – Bronze: ACASA
Visit website: http://acasamedia.com/
u – Bronze: POST-SCRIPTUM TRANSLATIONS Visit website: http://pstranslations.ca/
u – Bronze: Mona.Co Flowers
"Daca dragoste nu e, nimic nu e…" Cornelia Monaru | Floral Designer | 416-498-9559 | monacoflowers@yahoo.ca Visit website: http://monaco-flower.com/
Supporters: TES-Canada Inc. Visit website: http://www.tes-canada.com/
Supporters: TEOEX Import – Export
Visit website: http://www.glassgallery.ca/
Supporters: Rompost TV
Visit website: http://www.soniaproductions.com/index.html
Supporters: Ricoh Canada
Constantin Olos Product Technical Specialist Manager – National Technical support Division
Ricoh Canada Tel: (905) 795-5677 Mobil: (416) 629-0802 Visit website: http://www.ricoh.ca/
Supporters: PULS Romanesc
PULStv se vrea a fi un ambasador al comunității românești din GTA și zonele Kitchener, Waterloo, Cambridge, Guelph, Hamilton, London, pentru a conserva limba și tradițiile culturii, prezintă și promovează talente și oameni de business, organizează evenimente sociale și oferă informații importante pentru românii care au emigrat în Canada. Visit website: http://pulstv.ca/
Supporters: Personal Wellness Coach – Roxana Ichim
Visit website:
Supporters: Noi Romanii Noi Romanii is a weekly 30 minute programme that focuses on Romanian life in Ontario through news, interviews and entertainment, including: profiles of local artists, performances, community events, plus video clips from Romania. Visit website: http://www.noiromanii.ca/
Supporters: Cargo Romania
CARGO ROMANIA – Colete si repatrieri catre Romania si Republica Moldova Visit website: http://cargoromania.com/
Supporters: BIMMEX Inc. – Your BMW Experts
Visit website: http://www.bimmex.ca/
Supporters: ATP Law Office Angi Panzaru, LLM, JD, LLB
Barrister, Solicitor & Notary Public of the Law Society of Upper Canada & Bucharest Bar
317 Adelaide Str. W, Suite 1001, Toronto, Ontario, M5V 1P9
Ph.: (416) 640-4023 | (416) 573-0011
* For AREC members, the first 1/2 hour of consultation is free! Visit website: https://www.legalaid.on.ca/lawyers/angi-panzaru/
Supporters: ARTEXDOME – Fine Custom Cabinetry Manufacturer
Visit website: http://artexdome.com/
Supporters: Agenda Romaneasca
Visit website: http://www.agendaromaneasca.com/
Partners: Visualhawk Solutions
COMPLETE IT SOLUTIONS FOR BUSINESSES
We will take care of all your office needs no matter how big or small, anywhere in the GTA
IT Networking Services – Network Design, Installation & Moving |Hardware and Software Maintenance
Help Desk – Hardware Support | Software Support
IT Security – IT Security Consulting | Penetration Testing | Ongoing Monitoring
Data Protection/ Recovery – Certified On site/Off site Hard Drive Wipe Services
Hard Drive Recovery Services – Solid State / USB Memory Stick Data Recovery
Software, Application and Web Development
Call Moro at: 905-874-4879 or 416-805-0272 Visit website:https://visualhawksolutions.com/
Partners: RomanianCLUB.ca
Visit website: http://www.romanianclub.ca/events/
Partners: Observatorul
Visit website: http://observatorul.com/
Partners: IMCA Magazin Romanesc
Visit website: http://imca.ca/
Partners: Honorary Consulate of The Republic of Moldova to Ontario

Visit website: https://www.consulate-toronto.com/Ontario/Moldova-in-Toronto
Partners: Hi Trend
Visit website: https://www.facebook.com/hi.trend.5?fref=ts
Partners: Embassy of Romania to Canada

Visit website: http://ottawa.mae.ro/en/local-news
Partners: Consulatul General al Romaniei la Toronto

Email: toronto.cg@mae.ro
Web: http://toronto.mae.ro Visit website: http://toronto.mae.ro/
Partners: ConneXRo
Visit website:
Partners: BeSocial Event Management
Visit website: http://besocialevents.ca/

Visit website: http://www.economicalinsurance.com/en/groupinsurancechoices/groupinsurance.asp
y – Gold: Marius Mitrofan, Real Estate Broker at RE/MAX Realtron Realty Inc. Visit website: https://www.linkedin.com/in/mitrofan
y – Gold: Laky Adam, Mortgage Broker Direct # 416.917.5303 LICENCE # 11056
CAAMP – Accredited Mortgage Professional (AMP) IMBA – Certified Professional Mortgage Broker- ICI (CPMB) Making one of the largest purchasing decisions of one's life can be a daunting challenge. It is one that requires a vast array of information in order to facilitate the financing options for that large purchase. My knowledgeable experience will be applied for new purchases or re-finance of an existing mortgage. I specialize in residential, institutional, commercial, and business related financing. Visit website: http://www.clnmortgages.com/lakyadam
x – Silver: Seven View
Visit website: http://www.sevenviewchrysler.ca/index.htm
x – Silver: Parkway Honda… the Smart Way Parkway Honda has been serving Toronto and GTA residents for over 30 years. Recently having undergone a 5-million renovation, we now offer one of the best Honda dealership experiences in Canada with our bistro snack bar, 3 internet stations including wireless access, and a children play area. Our goal at Parkway is your satisfaction; that is way our service department is open 6 days a week with highly trained technicians. When it comes to purchasing a new or used Honda vehicle, we've got the best selection in Toronto. Come and visit us, our professional sales team is dedicated to your satisfaction and we strive to deliver a truly outstanding purcahse experience. Visit website: http://www.parkwayhonda.com/en/
x – Silver: Natural Stone City Visit website: http://www.naturalstonecity.com/
x – Silver: MARIO HOME RENOVATIONS INC. We provide Home Additions, Bathroom, Basement and Kitchen Renovation services in Toronto and GTA. Call Mario's Home Renovation today to begin turning your vision into reality. MARIO'S RENOVATION | Telephone: 647-500-3215 | E-mail: marioshomerenovation@yahoo.ca
Visit website: http://www.mariohomereno.ca/
x – Silver: Forest Hill Woodworking We are the company that can transform your old kitchen into a fabulous new kitchen for a lot less time and money than complete remodelling. Forest Hill Management |Phone: 905.770.3637 |Fax: 905 237 6564
Adress: 460 Elgin Mills Road E. Unit # 3 |Richmond Hill, ON L4C 5E7
Email: sales@foresthillwoodworking.com
Visit website: http://www.foresthillwoodworking.com/
x – Silver: Cristian Cupen, B. Comm., CGA For AREC members the first consultation is free. Visit website: http://www.accountingwoodbridgeon.ca/
x – Silver: CaRoEvents.com Visit website: http://www.caroevents.com/
x – Silver: Bogdan Naie, Sales Representative RE/MAX Realtron Realty Inc., Brokerage Visit website: http://www.BogdanNaie.ca
x – Silver: Bilete.ca Visit website: http://www.bilete.ca/
Gold: Marius Mitrofan, Real Estate Broker at RE/MAX Realtron Realty Inc. Visit website: https://www.linkedin.com/in/mitrofan
x – Bronze: Monte Carlo Inn Visit website: http://www.montecarloinns.com/
x – Bronze: HATCH Hatch ranked as Top 50 Best Employers in Canada for 2014 Hatch supplies engineering, project and construction management services, process and business consulting and operational services to the mining, metallurgical, energy and infrastructure industries. Pentru informatii Antonia Protopopescu Visit website: http://www.hatch.ca
x – Bronze: Dr. Elizabeth Munteanu Our small dental team is committed to provide dental care in a relaxed and friendly atmosphere. Phone: 416-398-2166 Visit website: www.drelizabethmunteanu.com
w – Bronze: ACASA Visit website: http://acasamedia.com/
u – Bronze: POST-SCRIPTUM TRANSLATIONS Visit website: http://pstranslations.ca/
u – Bronze: Mona.Co Flowers "Daca dragoste nu e, nimic nu e…" Cornelia Monaru | Floral Designer | 416-498-9559 | monacoflowers@yahoo.ca Visit website: http://monaco-flower.com/
Supporters: TES-Canada Inc. Visit website: http://www.tes-canada.com/
Supporters: TEOEX Import – Export Visit website: http://www.glassgallery.ca/
Supporters: Rompost TV Visit website: http://www.soniaproductions.com/index.html
Supporters: Ricoh Canada Constantin Olos Product Technical Specialist Manager – National Technical support Division
Ricoh Canada Tel: (905) 795-5677 Mobil: (416) 629-0802 Visit website: http://www.ricoh.ca/
Supporters: PULS Romanesc PULStv se vrea a fi un ambasador al comunității românești din GTA și zonele Kitchener, Waterloo, Cambridge, Guelph, Hamilton, London, pentru a conserva limba și tradițiile culturii, prezintă și promovează talente și oameni de business, organizează evenimente sociale și oferă informații importante pentru românii care au emigrat în Canada. Visit website: http://pulstv.ca/
Supporters: Personal Wellness Coach – Roxana Ichim Visit website:
Supporters: Noi Romanii Noi Romanii is a weekly 30 minute programme that focuses on Romanian life in Ontario through news, interviews and entertainment, including: profiles of local artists, performances, community events, plus video clips from Romania. Visit website: http://www.noiromanii.ca/
Supporters: Cargo Romania CARGO ROMANIA – Colete si repatrieri catre Romania si Republica Moldova Visit website: http://cargoromania.com/
Supporters: BIMMEX Inc. – Your BMW Experts Visit website: http://www.bimmex.ca/
Supporters: ATP Law Office Angi Panzaru, LLM, JD, LLB
Barrister, Solicitor & Notary Public of the Law Society of Upper Canada & Bucharest Bar
317 Adelaide Str. W, Suite 1001, Toronto, Ontario, M5V 1P9
Ph.: (416) 640-4023 | (416) 573-0011 * For AREC members, the first 1/2 hour of consultation is free! Visit website: https://www.legalaid.on.ca/lawyers/angi-panzaru/
Supporters: ARTEXDOME – Fine Custom Cabinetry Manufacturer Visit website: http://artexdome.com/
Supporters: Agenda Romaneasca Visit website: http://www.agendaromaneasca.com/
Partners: Visualhawk Solutions COMPLETE IT SOLUTIONS FOR BUSINESSES
We will take care of all your office needs no matter how big or small, anywhere in the GTA
IT Networking Services – Network Design, Installation & Moving |Hardware and Software Maintenance
Help Desk – Hardware Support | Software Support
IT Security – IT Security Consulting | Penetration Testing | Ongoing Monitoring
Data Protection/ Recovery – Certified On site/Off site Hard Drive Wipe Services
Hard Drive Recovery Services – Solid State / USB Memory Stick Data Recovery
Software, Application and Web Development
Call Moro at: 905-874-4879 or 416-805-0272 Visit website:https://visualhawksolutions.com/
Partners: RomanianCLUB.ca Visit website: http://www.romanianclub.ca/events/
Partners: Observatorul Visit website: http://observatorul.com/
Partners: IMCA Magazin Romanesc Visit website: http://imca.ca/
Partners: Honorary Consulate of The Republic of Moldova to Ontario
Visit website: https://www.consulate-toronto.com/Ontario/Moldova-in-Toronto
Partners: Hi Trend Visit website: https://www.facebook.com/hi.trend.5?fref=ts
Partners: Embassy of Romania to Canada
Visit website: http://ottawa.mae.ro/en/local-news
Partners: Consulatul General al Romaniei la Toronto
Email: toronto.cg@mae.ro
Web: http://toronto.mae.ro Visit website: http://toronto.mae.ro/
Partners: ConneXRo Visit website:
Partners: BeSocial Event Management Visit website: http://besocialevents.ca/